Bike pedals for
your urban lifestyle.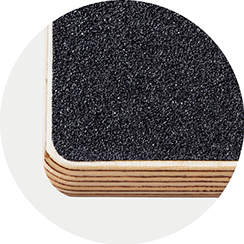 More grip.
More power.
More safety.
By using the entire pedal area
and direct contact
to the axle.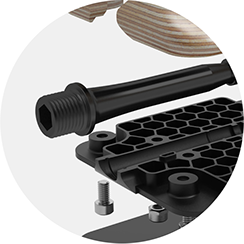 More grip.
More power.
More safety.
Through patented plain bearings
and interchangeable
components.
Pedal
width
adjustment.
Adjustable axle for more
leg room.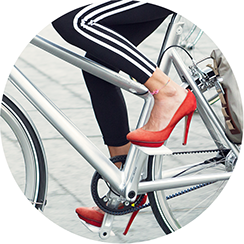 Universal fit.
For all
Bikes.
From women's city bikes
to road bikes, mountain bikes and
e-bikes or pedelecs.
Bike pedal – thought differently
The pedals are one of the three points of contact between rider and bicycle. The more efficient this interface, the better the rider's ability to convert muscle power into propulsion. This is why clipless pedals are used in competitive cycling, but these are not practicable for everyday use.
Conventional platform pedals generally fail to provide optimum power transmission, and urban cyclists know how painful it is when your expensive leather-soled shoes or high heels slide off the pedals and you hit your shin. To address this issue, MOTO Bicycles has created the MOTO Pedal. With its innovative design, the MOTO Pedal is a complete game changer for city cyclists. Working with a team that included engineers from the aerospace industry, the company spent four years developing a bike pedal with a difference. Not only does the MOTO Pedal tick all the boxes in terms of safety and optimum power transmission; its attractive, slimline design is another selling point. Its sculpted lines and light weight have been achieved by systematically reducing the number of components. Coupled with the outstanding product features, this makes for the best possible cycling experience in city traffic.
The design: ingeniously simple
All this is possible thanks to the elimination of unnecessary components and the deliberate use of lightweight, sustainable materials. Manufactured in Germany, exclusively from high-quality materials, the MOTO Pedal features a patent-pending sandwich construction developed using cutting-edge engineering expertise. Two load-bearing shells, enclosed in a wooden frame with rounded corners, in turn enclose an axle of highly tempered CNC-machined stainless steel. The load-bearing shells are made of fibreglass-reinforced plastic with a honeycomb structure, which ensures a good balance between rigidity and weight. This construction technique is widely used to add strength in the aerospace industry and in high-performance sports equipment.
Applications include gliders, yachts, surfboards, skis and snowboards, all of which have to withstand great stress. The bearing and axle retention systems, which normally consist of separate components such as ball bearings and circlips, are fully integrated into the outer load-bearing shells. An additional feature
is the ability to adjust the length of the pedal axle by 5 mm, which has likewise been built into the load-bearing shells without adding any components. In the event of a crash, four grooves on the exterior of the pedal axle distribute any excess forces equally over a large surface area, thereby dampening their impact. This means that, even in extreme circumstances, the pedal will not be destroyed. The pedal surface is continuous, the designers having deliberately avoided using any pins or metal to minimise the risk of injury.
Strong grip tape ensures safety and excellent adhesion, preventing painful slips even with smooth leather soles in wet conditions. The pedals weigh in at just 320 g per pair and are a mere 15 mm thick, thanks mainly to the systematic use of materials. MOTO Bicycles is committed to using only practical materials, and to striking the right balance between product benefits, environmental sustainability and cost.


(052) 253 711 025
Available 8:30 – 17:30
info@ourcompany.com
Drop us a line