Restrap は、ただバイクパックやサイクリング アクセサリーを作るだけではなく、
実際に使用して得た経験を製品に反映するため、Restrapクルーは各国で大規模なバイクパッキングを行っています。
何よりすごいのはこの世界を周るツアーには、社長のNathan氏自ら参加していること。
製品づくりに対する思いというか姿勢がこの部分からも伝わってきます。
今回のトルコのツアーの記事が興味深く、バイクセッティングの参考になるかと思いましたのでご紹介します。
是非、こちらの記事を参考に自分にあったバイクパックセッティングをしてみてはいかがでしょうか。
以下は本国のブログからの引用になります。
---
私達は毎年、各国を旅しています。
実際に旅にでてフィールドテストを行うことで、製品の耐久性や使い勝手の確認やバイクパッキングの楽しさを体験できます。
これまでクロアチア、日本、スコットランド北海岸、スペイン、フランスなど、様々な場所を巡ってきました。
「Hvala Croatia」のリリースとプレミア上映から新鮮な気持ちで私たちは集まり、次の旅行を計画しました。
未知の場所、未踏の地を求めて、私たちは次の目的地を探しました。地図を何時間も熟読し、それがトルコであることが決まりました。
ツアーの詳細はこちら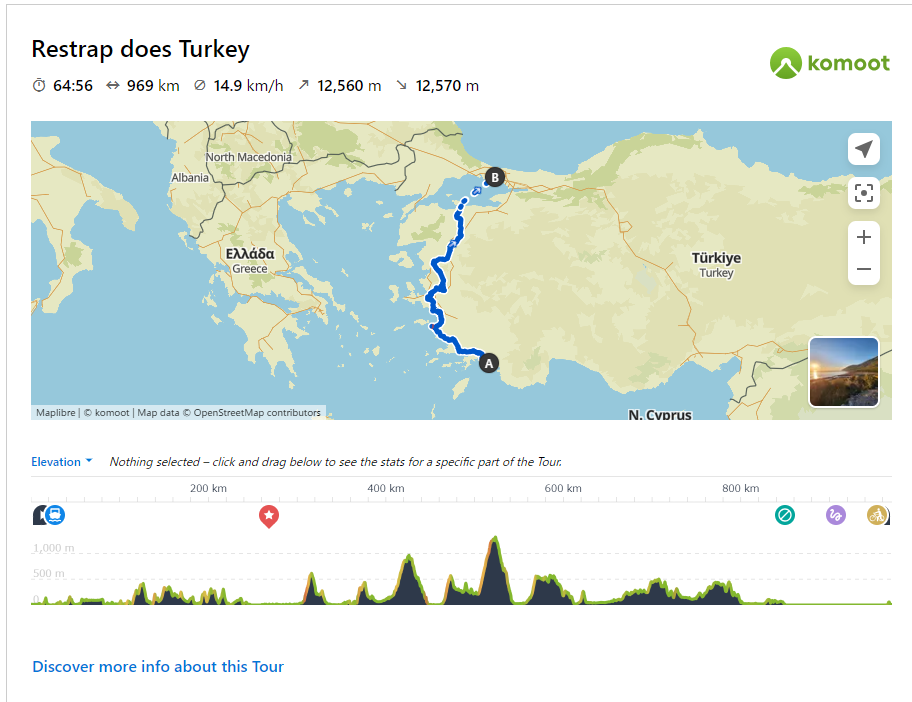 このツアーは、南部のダラマンから始まり、イズミル周辺の山脈を抜けてエーゲ海岸線に沿い、歴史あるイスタンブールがゴール地点の予定。
このツアーは未舗装の道路やトラックで乾燥して埃っぽい条件が予想されるため、私たちはバイクを過酷な条件に対応できるように調整しました。
この旅は、Albion Cycling、Schwalbe Tyres、Alba Opticsの協力を得て実現しました。
以下は、今回持参した機材の詳細です。
---
RIDER NAME:JON'S FAIRLIGHT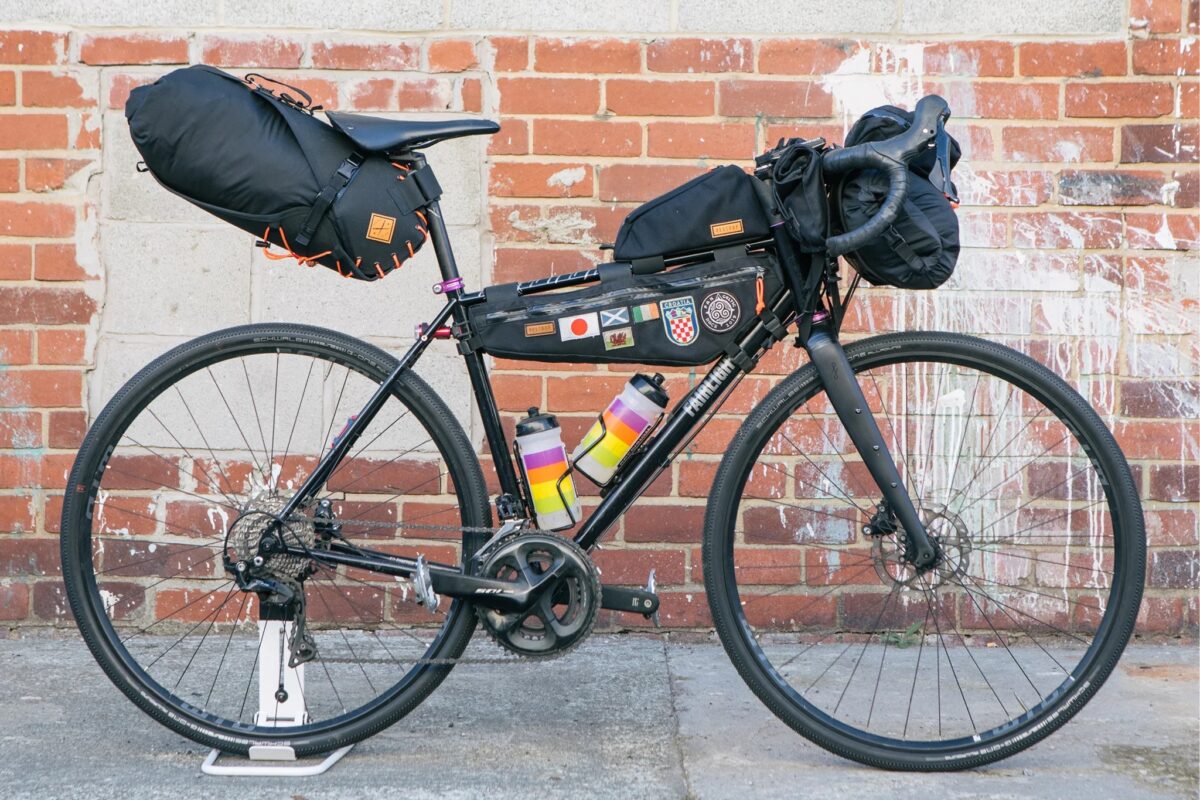 バイク
FRAME AND FORK: Fairlight Secan 2.0 – 54T
GROUPSET: Shimano 105
SADDLE: Brooks C17 Cambium All-weather Cut-out
TYRES: Schwalbe G1 All-Round – 35s
LIGHTS: Cateye Front light and Exposure Tracer rear
GPS: Wahoo ELMNT
TOOLS: Topeak Minidrive multitool, Vel+ Pump, 3x Spare Tubes, Quick Links
バイクパック
HANDLEBAR BAG: Restrap Bar Bag and Large food pouch.
FRAME BAG: Restrap Large Frame Bag
SADDLE BAG: Restrap 14L Saddle Bag
COCK-PIT BAGS: Restrap Top Tube Bag and Restrap Stem Bag, Restrap Tech Bag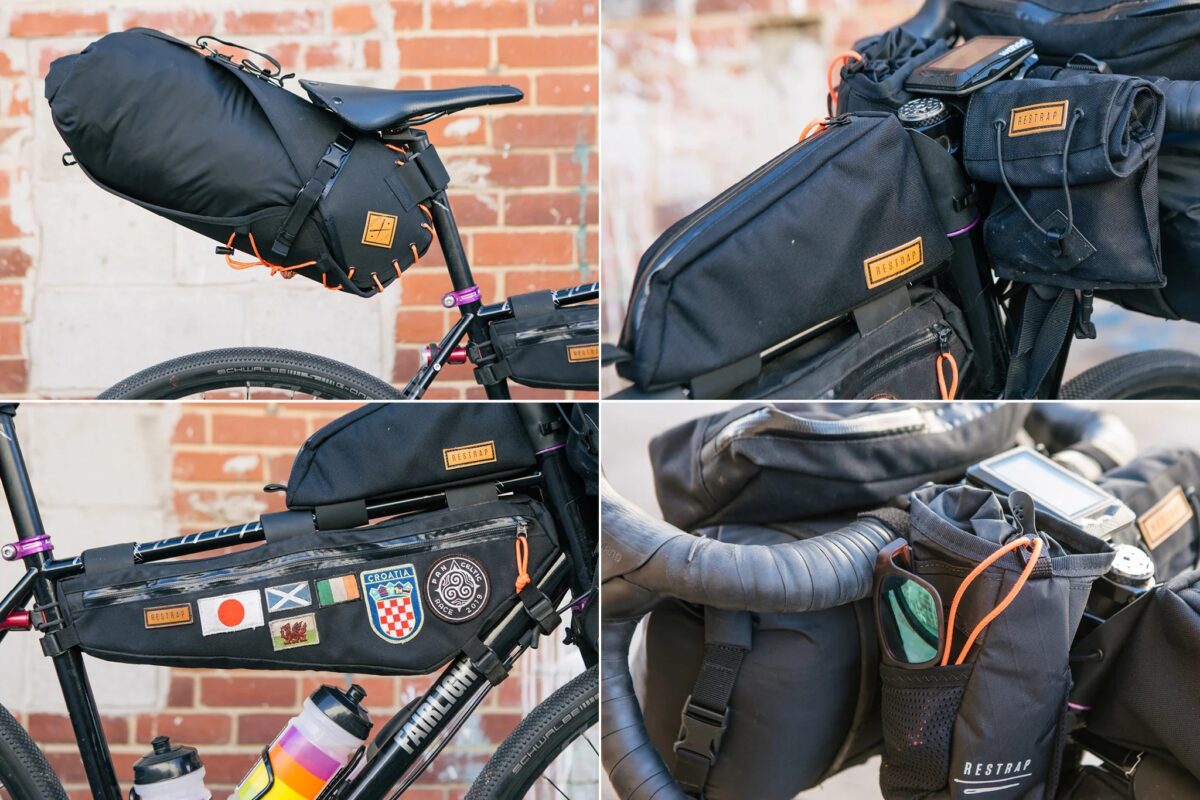 キャンプギア
テント: Naturehike 1 Man Tent Green
シュラフ: Alpkit 2 season, or silk liner for warmer nights
マット: Thermarest NeoAir
その他ギア: 石鹸,歯ブラシセット タオル, ヘッドフォン,サングラス, サンダル,サバイバルナイフ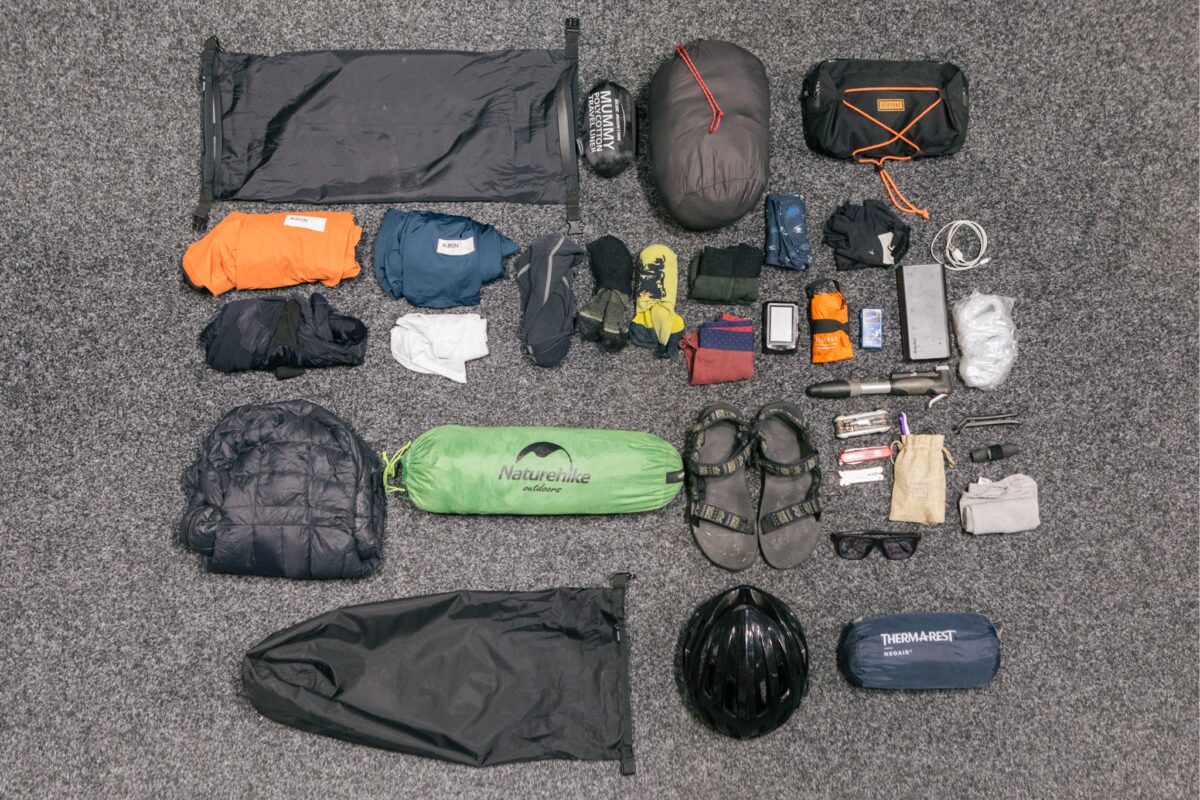 ---
RIDER NAME:ALEX'S STAYER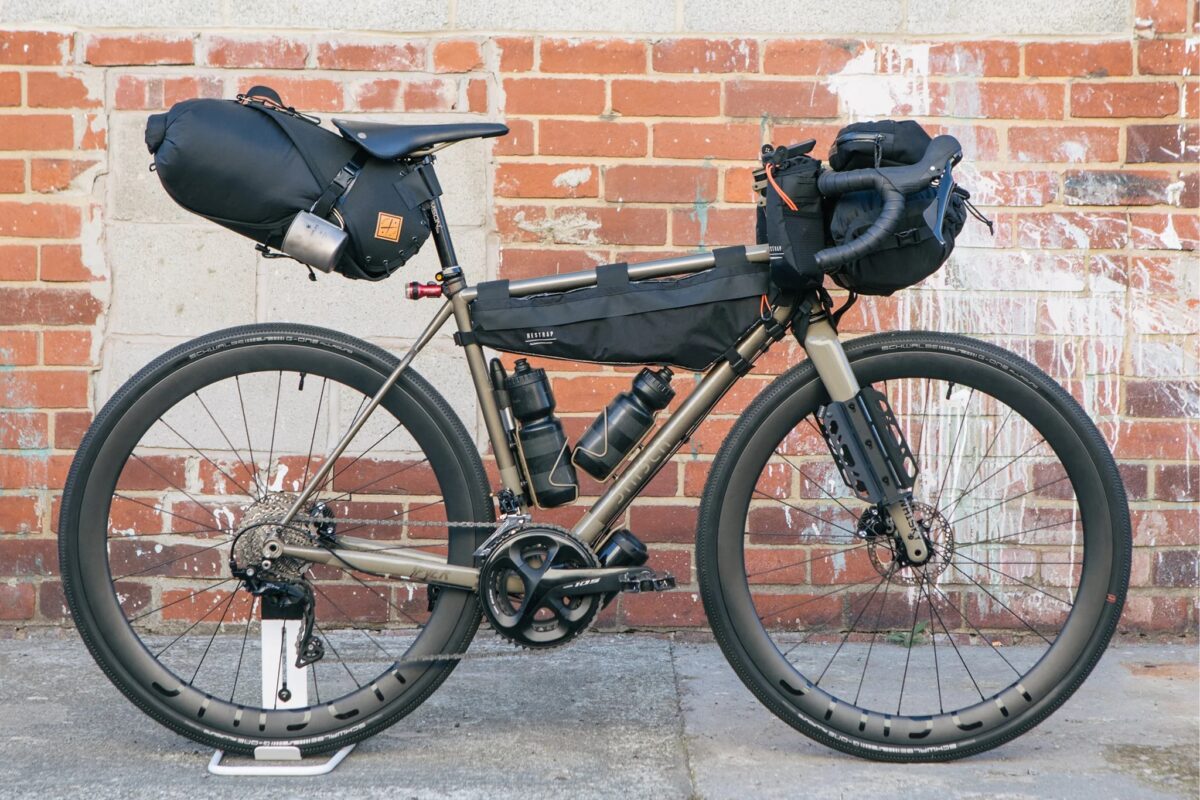 バイク
FRAME AND FORK: Stayer Groadinger UG
HEADSET: Hope
GROUPSET: Shimano 105 Hydro
HANDLEBARS: PRO Discover 20 degree
STEM: Cerakoted Thomson Elite X4
SEATPOST: Thomson Elite
SADDLE: Brooks Cambium C17 with Cerakoted Rails and Rivets
WHEELS: Stayer All Road laced to Hope hubs
TYRES: Schwalbe G1 All Round – 35C – Tubeless
LIGHTS: Exposure Trace
GPS: Wahoo Roam
TOOLS: Wolfooth 8-bit Pack Pliers, Topeak Tyre levers, Dynaplug, Schwalbe Aerothan Tube, Spare Brake Pads, Topeak Pump, Restrap Tyre Boot Kit
バイクパック
HANDLEBAR BAG: Bar Bag – Large
FRAME BAG: Race Frame Bag – Large, Race Musette
SADDLE BAG:Restrap 14L Saddle Bag
COCK-PIT BAGS: Race Stem Bag x 2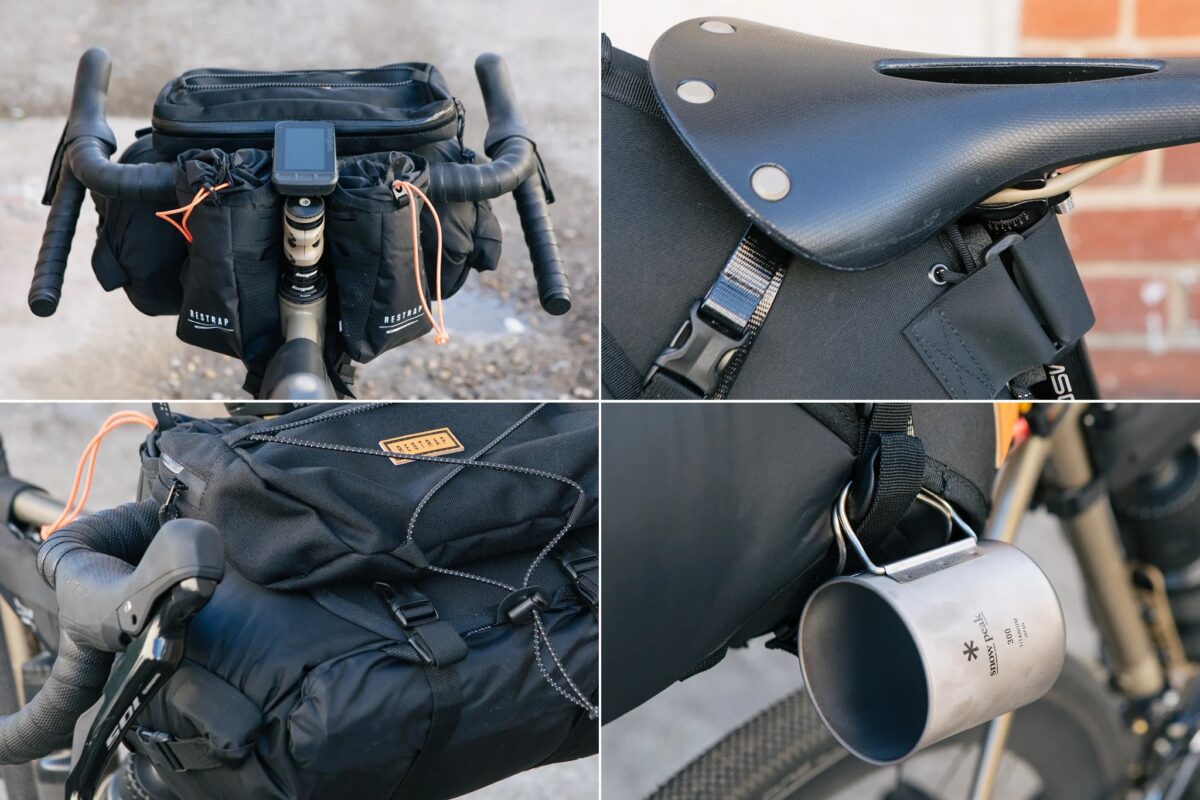 キャンプギア
テント: Big Agnes FlyCreek Bikepacking UL2
シュラフ: Sea To Summit SPI
マット: Thermarest NeoAir
その他ギア: Thermarest Pillow(枕), Black Diamond (ヘッドライト), Anker モバイルバッテリー, Snow Peak Mug, Snow Peak Spork(カトラリー)
---
RIDER NAME:NATHAN'S WOODRUP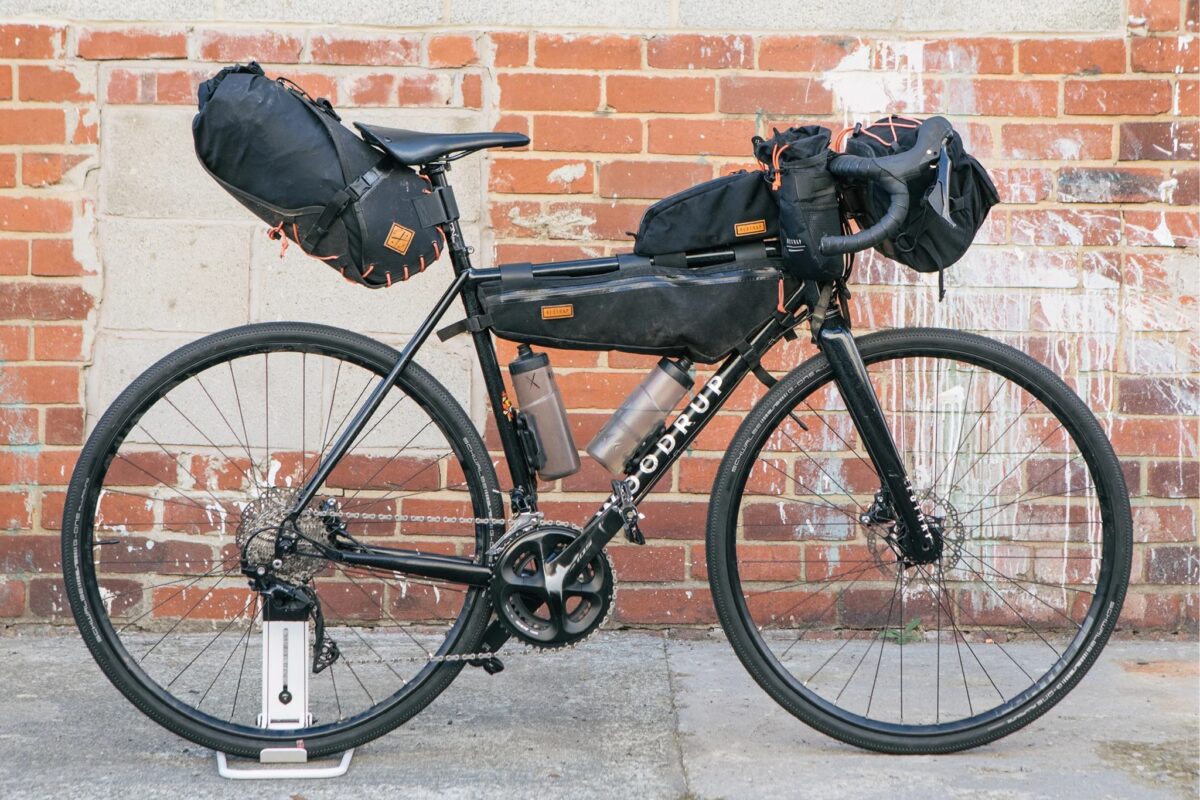 バイク
FRAMESET: Woodrup Cycles Custom Build
HEADSET: Chris King No threadset
GROUPSET: Shimano 105/Dura Ace mix
HANDLEBARS: Pro Discovery 42cm flared bars
STEM: Thompson Elite X4 Over-sized Road Stem
SEATPOST: Thomson Elite Inline Seat Post
SADDLE: Brooks C17 Cambium All-Weather Cut-out
WHEELS: Hope Hoops
TYRES: Schwalbe G-Ones – 35s
LIGHTS: Exposure Tracer Front & Rear
GPS: Wahoo Elemnt
TOOLS: Multi tool, 2 X Spare Tubes, Tyre lever, Spokes, Spoke-key, Lube, Split links, spare pads, Gerber Knife.
バイクパック
HANDLEBAR BAG: Restrap 10L Bar Pack
FRAME BAG: Restrap Large Frame Bag
SADDLE BAG: Restrap 14L Saddle Bag with 14L Restrap Dry-bag
COCKPIT BAGS: Restrap Stem Bags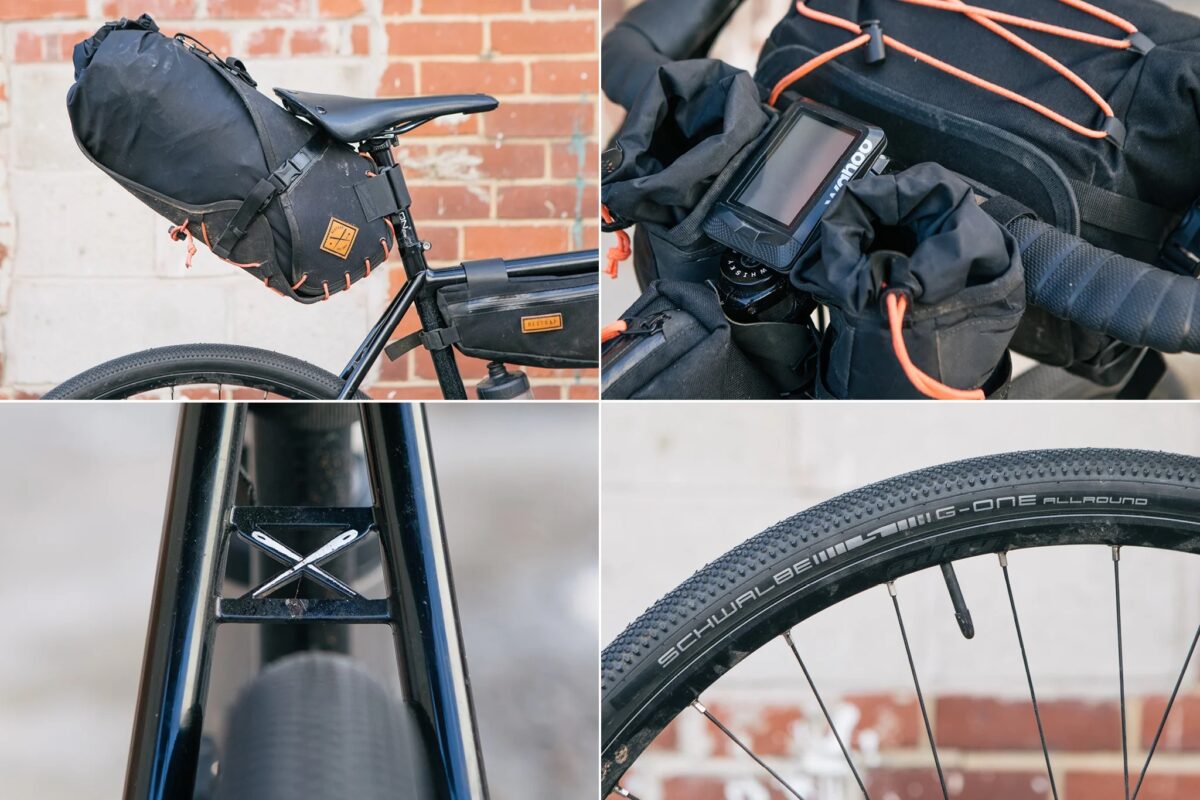 キャンプギア
TENT: Nature Hike Cloud Up 2
SLEEPING BAG: OEX Helios EV 300
SLEEPING MAT: Thermarest Neo Air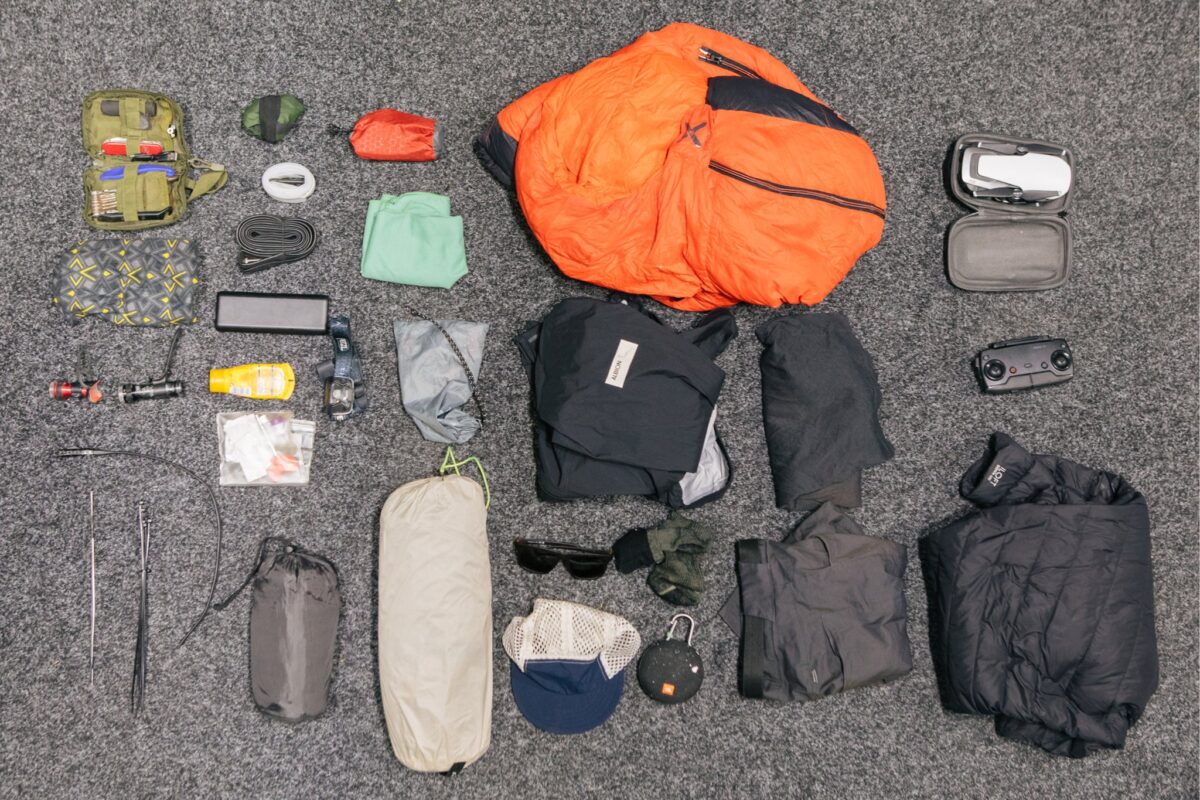 ---
RIDER NAME:GIDEON'S RITCHEY
バイク
FRAME AND FORK: 56cm Ritchey Swiss Cross Disc frame with additional downtube bottle cage mount
HEADSET: Brand-X headset
GROUPSET: Shimano Ultegra R8020 shifters, GRX clutch rear derailleur, 11-42T cassette, 42T narrowide chainring, Rotor 3D cranks, Hope RX4 calipers
HANDLEBARS: 42cm Zipp Xplr bars
STEM: 120mm Thomson Elite X4 stem
SEATPOST: Thomson Elite setback seatpost
SADDLE: Selle Italia SLR saddle
WHEELS: Hope Pro4 hubs on DT Swiss GR 531 DB rims
TYRES: 38mm Schwalbe G-One tyres
LIGHTS: Moon rear light, Cree front light
GPS: Wahoo Elemnt Bolt v2 computer
TOOLS: Allen key multitool, Lezyne pump, spare brake pads, 2x spare inner tubes, patch kit, tyre boot kit, 2x tyre levers, sewing kit, Muc Off wet lube
BIKEPACKING BAGS
HANDLEBAR BAG: Restrap large bar bag with food pouch
FRAME BAG: Restrap large frame bag
SADDLE BAG: Restrap 14L saddle bag
COCK-PIT BAGS: N/A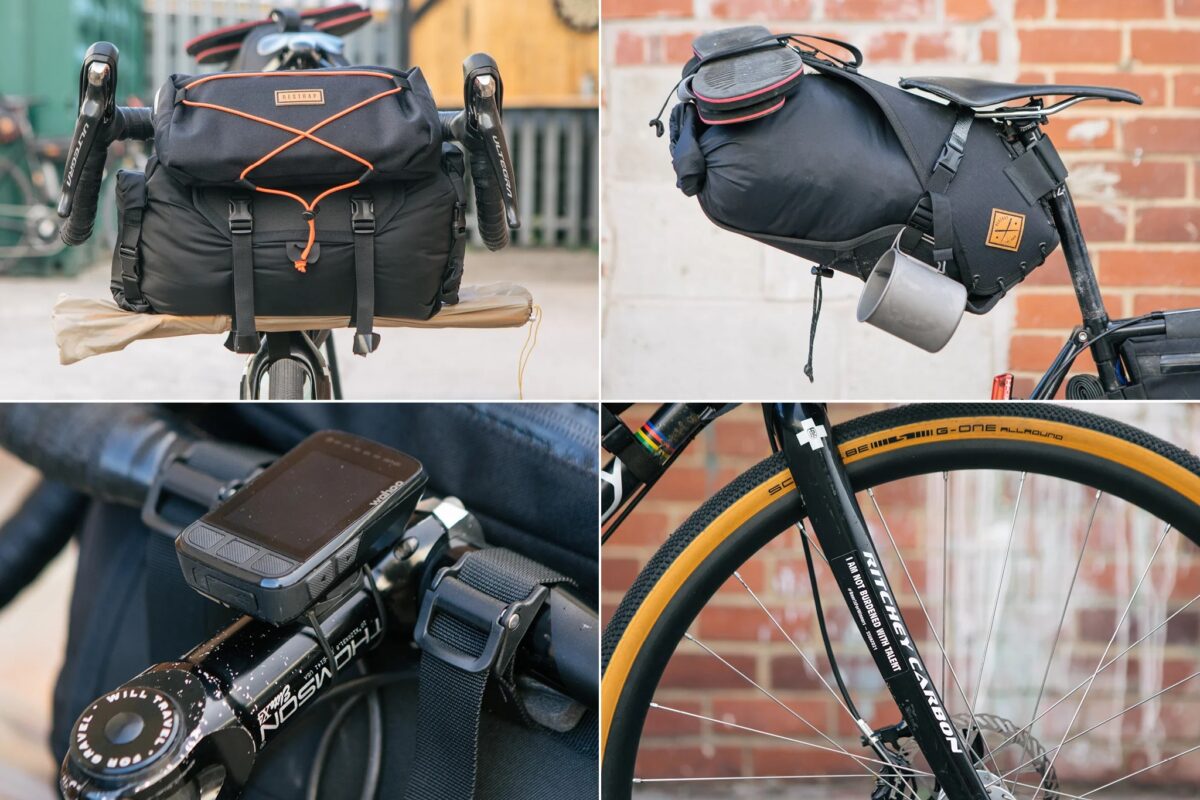 CAMPING SETUP
TENT: Big Agnes Fly Creek HV UL2 tent
SLEEPING BAG: Robens Caucasus 300 sleeping bag
SLEEPING MAT: Forclaz 700 short sleeping mat
その他ギア
ボトル×2、ツールボトル、LEZYNE 防水ポーチ、チタンマグカップ、救急セット、 サイクリンググラス、サコッシュ、洗面用具、高速充電器&変換プラグ、SPF30 日焼け止め、SPF15 リップクリーム、Restrap FAST STRAP×4、マイクロファイバータオル、カードケース、イヤホン、予備のカメラバッテリー、バッテリーバンク、スプーンフォーク、充電ケーブル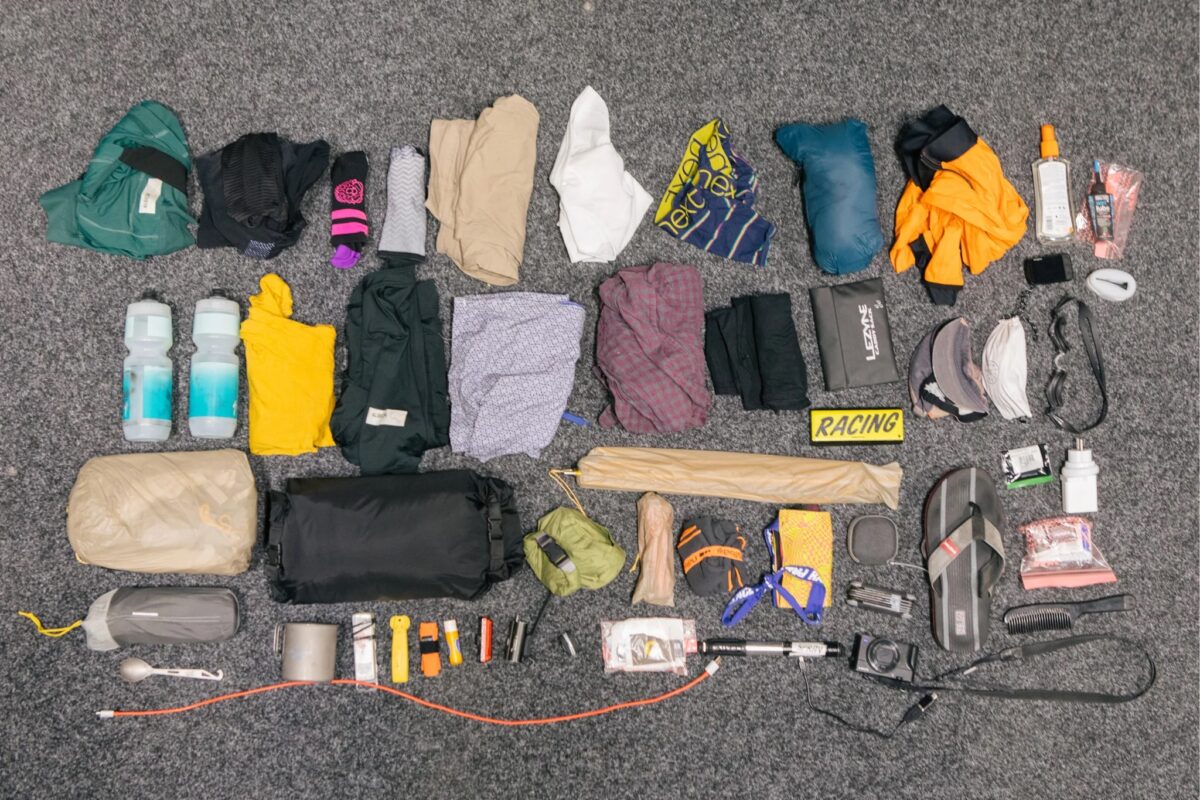 ---
RIDER NAME:MARK'S SPECIALIZED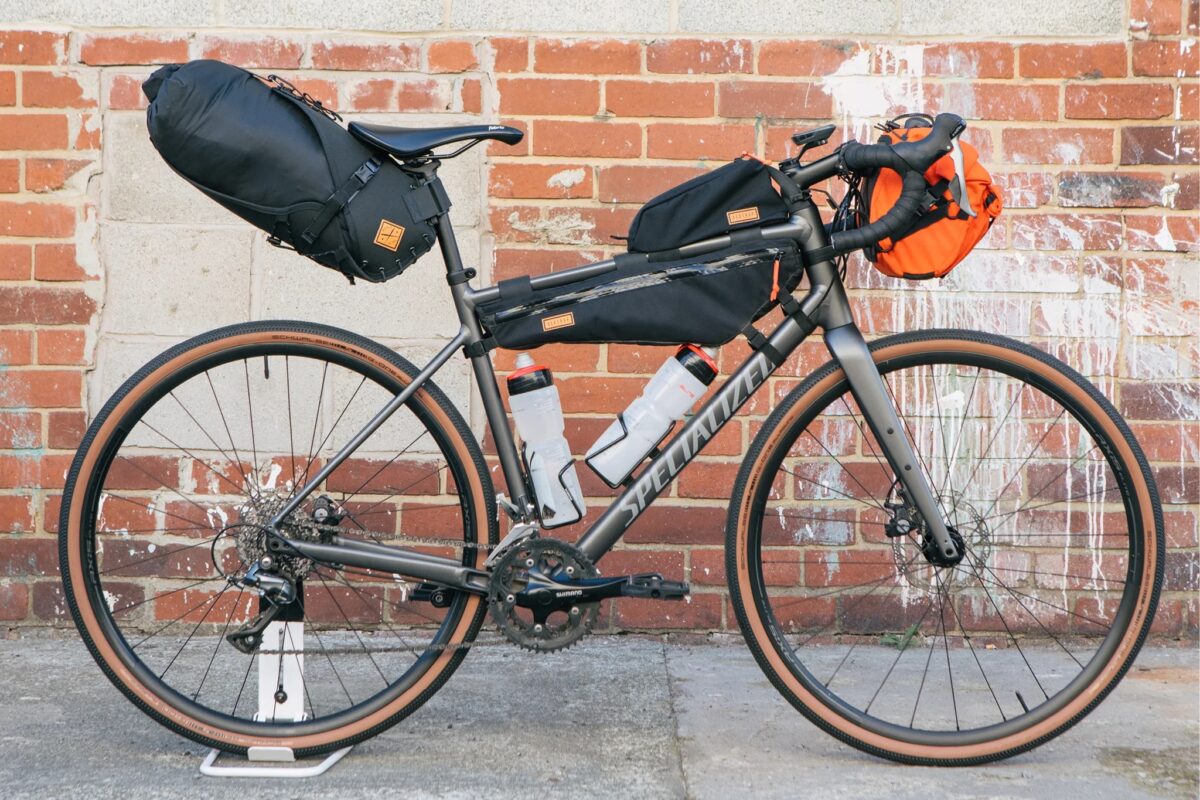 バイク
FRAME AND FORK – Specialized Diverge 2020
HEADSET – Specialized Internal
GROUPSET – Shimano Claris Mechanical 8 Speed
HANDLEBARS – Specialized 44cm
STEM – Specialized 100mm
SEATPOST – Specialized 27.2
SADDLE – Fabric Scoop
WHEELS – Specialized Thru Axle Sealed
TYRES – Schwalbe G-One 40c
LIGHTS – Petzl headtorch and Moon Rear
GPS – Wahoo Elmnt Bolt
TOOLS – Tubes, Pump, Multi tool, Chain tool, brake pads, Puncture kit, Split link, Oil, Tyre levers, Swiss army knife, Pedal spanner.
BIKEPACKING BAGS: Bar Pack, 14L saddle bag, Large Frame bag, top tube bag.
バイクパック
Bar Pack, 14L
saddle bag
Large Frame bag
top tube bag.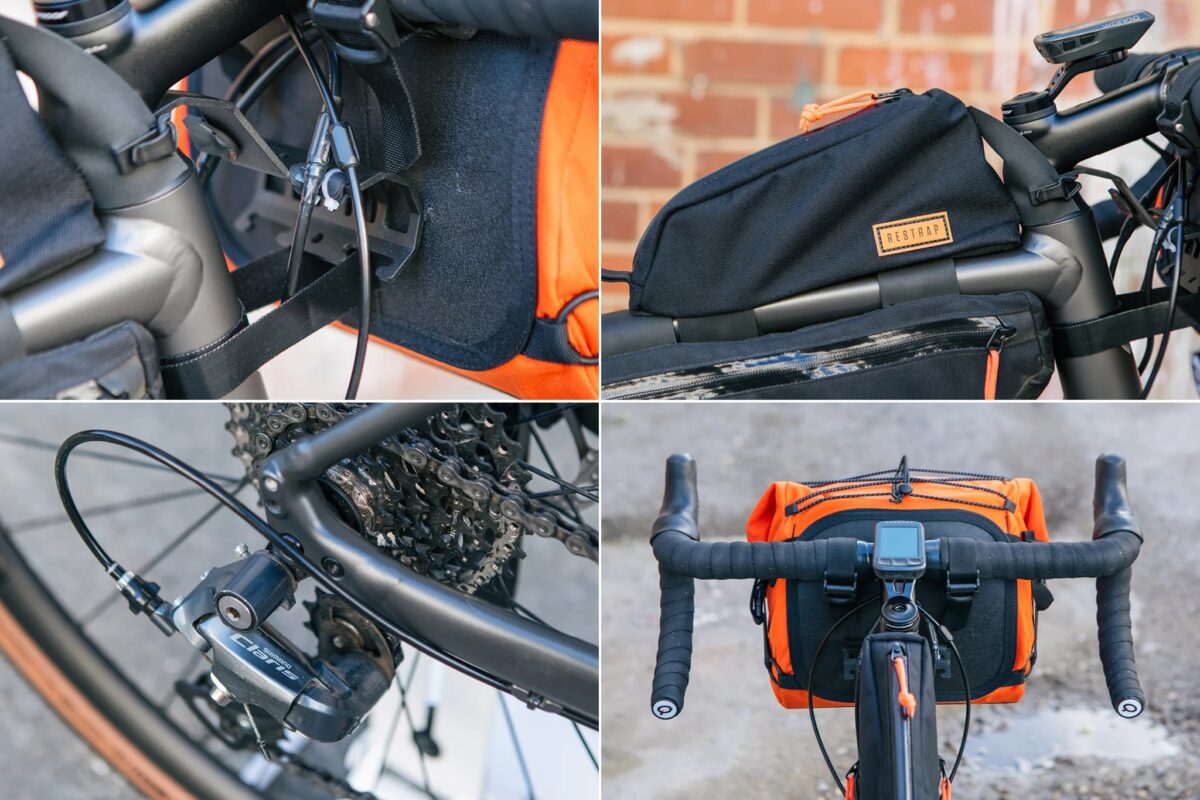 キャンプギア
TENT: Alpkit
SLEEPING BAG: Aldi
SLEEPING MAT: Nature Hike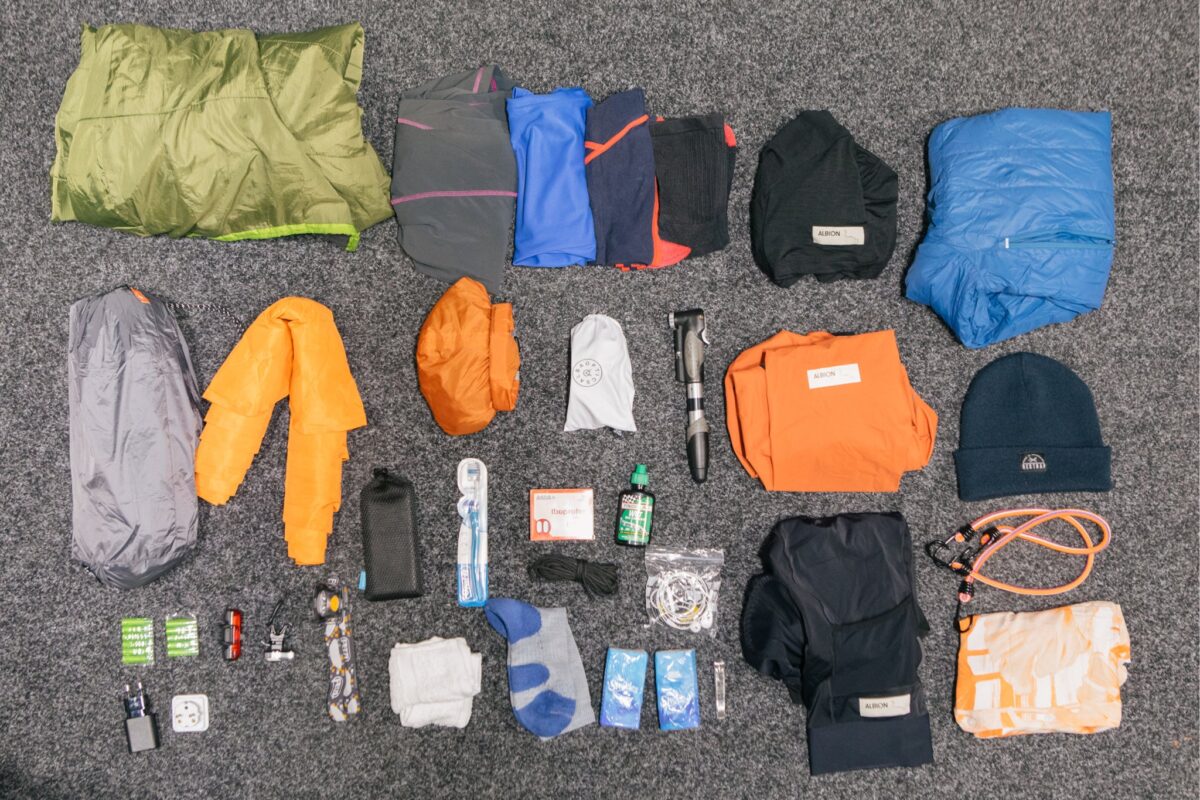 ---
RIDER NAME:CHRIS'S CONDOR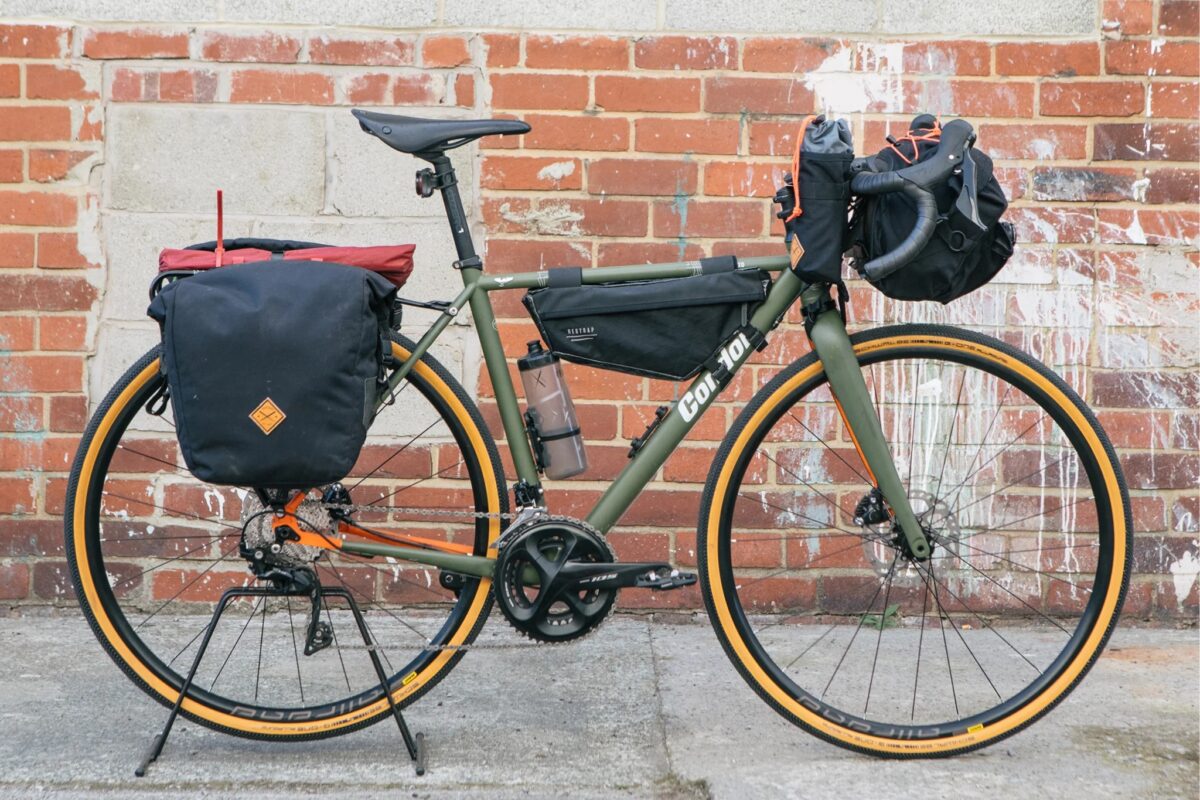 バイク
FRAME AND FORK: Condor Bivio Spirit HSS with Carbon fork
HEADSET: Condor
GROUPSET: Shimano 105 Hydraulic, 50-34 chainset, 11-34 cassette
HANDLEBARS: Pro Lite 42 cm (slightly flared)
STEM: Deda zero 1
SEATPOST: Deda zero 1
SADDLE: Brook C15 Cambium carved
WHEELS: Mavic AllroaD
TYRES: Schwalbe G-one tanwall (32c)
LIGHTS: Moon front and rear
GPS: Wahoo Elemnt with Logic top cap mount
TOOLS: Multi-tool; Parktool tire levers; Topeak mini pump.
バイクパック
HANDLEBAR BAG: Restrap Bar Pack 10L (with Restrap Bumper Bar)
FRAME BAG: Restrap Race (small)
REAR BAG: 2 X Restrap small panniers (13L)
COCK-PIT BAGS: 1 x Restrap Stem Bag
Race Musette Bag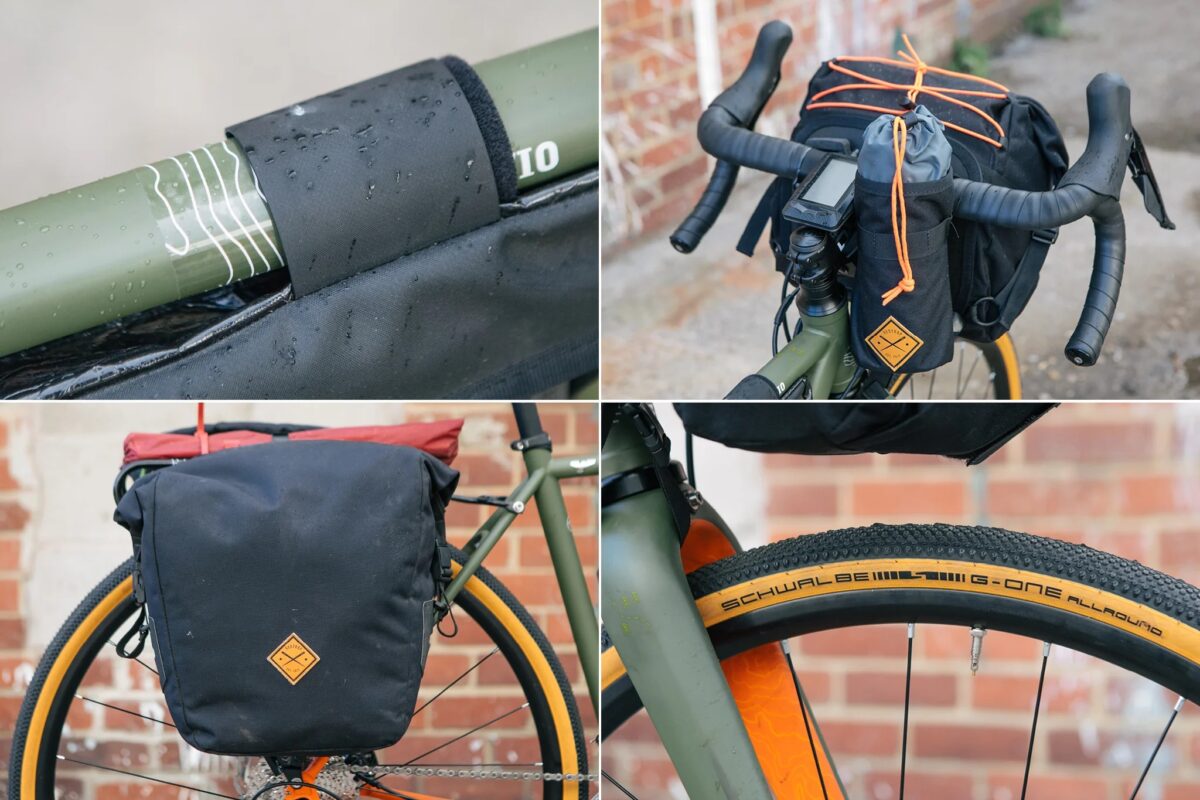 キャンプギア
TENT: Naturehike Cloud 2up
SLEEPING BAG: Mountain warehouse Ultralight down
SLEEPING MAT – Sea to Summit Ultra light